Play is a process that is freely chosen, personally directed and intrinsically motivated
— Playwork Principles
Play provides opportunities for children to learn, as they discover, create, improvise and imagine. When your child plays with other children, they create social groups, test out ideas, challenge each other's thinking and build new understandings.
At Educoe, we provide a supportive environment where your child can ask questions, solve problems and engage in critical thinking. We will be intentional in our teaching, to expand on your children's thinking and enhance their desire to know and to learn.
What we learn with pleasure, we never forget
— Alfred Mercier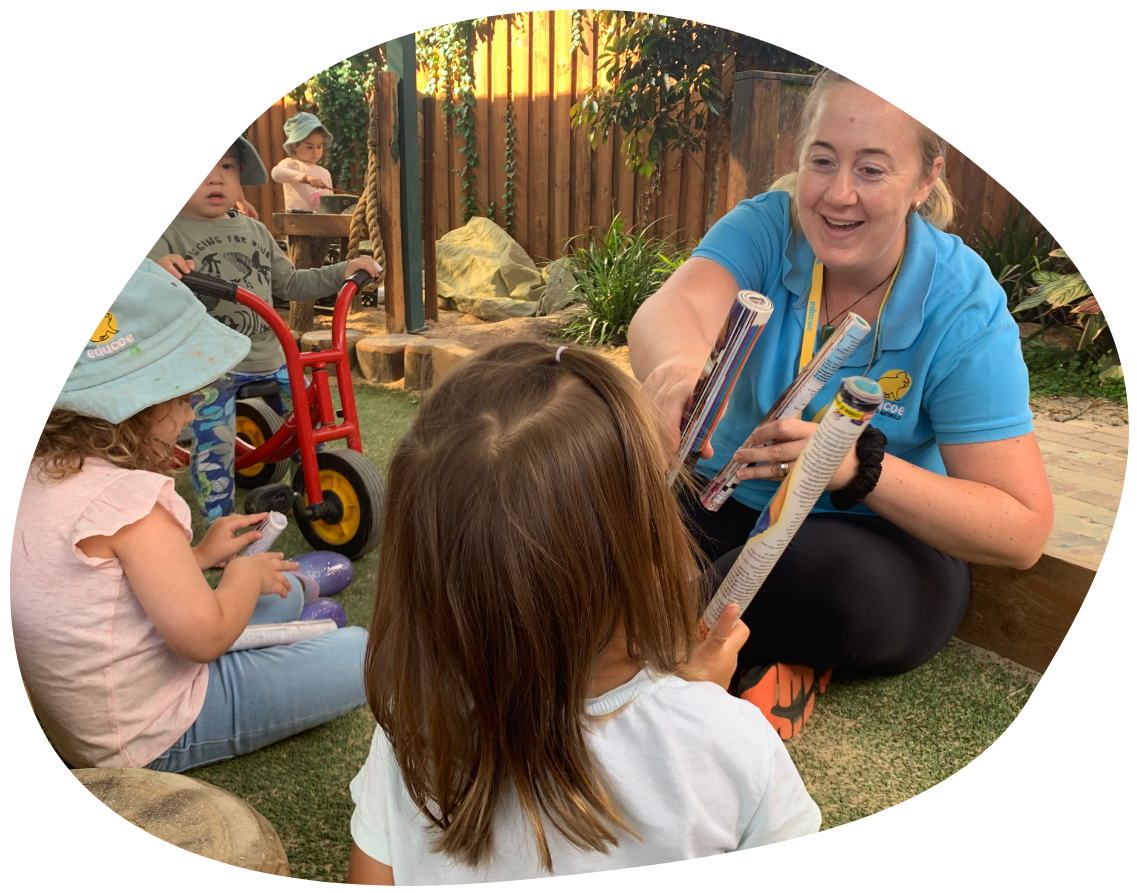 Your child's Primary Caregiver will take on many roles in play alongside your child, and use a range of strategies to support their learning.
Your child's Primary Caregiver will:
Engage in sustained, shared conversations with your child, to extend their thinking.
Provide a balance between child led, child initiated, and educator supported learning.
Create learning environments that encourage your child to explore, solve problems, create and construct.
Recognise spontaneous teachable moments as they occur, and use them to build on your child's learning.
Through independent play your child will become autonomous, and discover satisfaction and joy in their own independence.
Every child has the right to rest, relax, PLAY and to take part in cultural and creative activities.
— Article 31, United Nations Convention on the Rights of the Child
One of RIE's basic principles focuses on allowing children time for uninterrupted play. By fostering independent play, we are encouraging your child to be more active and inventive, and less dependent on us to make play happen.
Play is the highest form of research
Let the child be the scriptwriter, the director and the actor in his own play
ADVENTUROUS PLAY
Learning to fall, getting up again, and moving on, is the best preparation for life
As parents, you are wired to try to save your children from any harm or hurt. Children will fall down, hurt their feelings, and they'll get scared, sad or angry.
Risk has value, in that it can be an opportunity for learning.
Rather than trying to shelter children from life's inevitable difficulties, we help them to integrate those experiences into their understanding of the world, and to learn from them.
We will give your child opportunities to experience adventurous play, in a safe environment. This will support your child to develop the life skills and abilities they need to not only identify and navigate risk, but to overcome it too.
Our greatest glory consists not in never falling, but in rising every time we fall.
— Oliver Goldsmith