I promise to see you as whole, right from the beginning, as capable and competent.
— Educoe Philosophy
Infancy is a truly magical developmental time that should be treasured, cherished, and nurtured, and given freedom to progress at a calm and natural pace. We give your child the space and time they need to unfold in a peaceful and authentic way.
We are there for each special caregiving moment.
What an infant needs is to experience the full, undivided attention of a significant person.
At Educoe, we think of our caregiving moments, such as nappy changes, as a time to be present. It is a moment that is cherished by your child's Primary Caregiver as a time to connect. The satisfaction that your child gets from this uninterrupted connection will give them the security they need to go off to explore freely, and discover.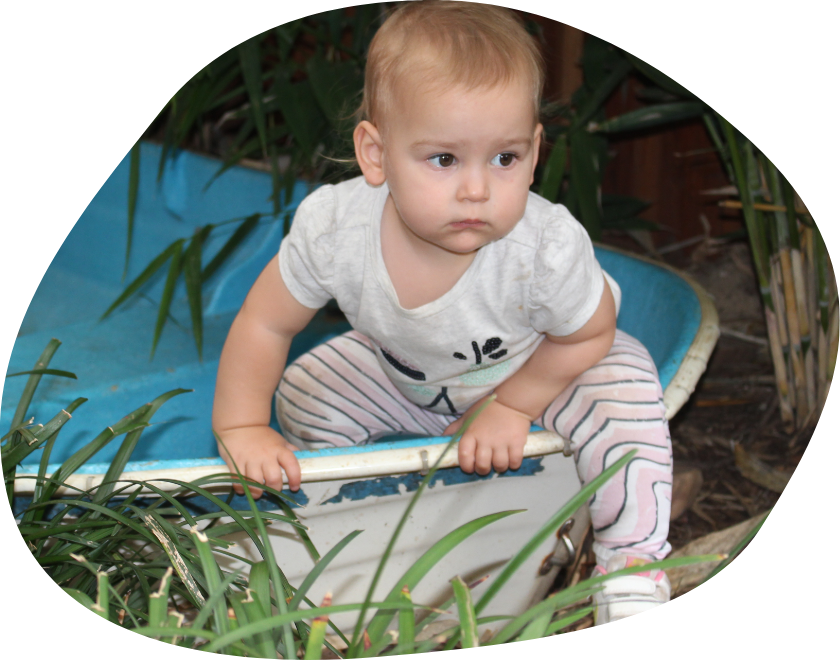 The importance of free movement
At Educoe, your child will move and explore freely, so they can choose and change their own body position. They learn about their body's true capabilities, within our safe and challenging environment.
Our environments allow all children to develop their confidence in, and control of, their bodies.
An infant's development is like the opening of a flower bud. It gradually unfolds. If we open its petals unnaturally, we interfere with the growing process and the flower becomes distorted.
— Marianne Herm-van Wanrooy
What does language development in the infant room look like?
Two-way communication, from the very beginning
Using an authentic voice and first person
Talking about real, meaningful things
Sharing books and telling stories responsively
I promise to communicate authentically. This means I will use real words and talk about real things. I will always hear you, by affording you plenty of time to respond, and always acknowledging your voice.
At our infant child care in Revesby, we maximise the learning potential of your child
How will my infant learn in child care?
You might find, as a parent, you continually are fighting one battle with yourself – what should my child know, and what should I be teaching them?
At our child care, we don't have an agenda to teach children and force cognitive stimulation. If you think of the wide range of things your child has to figure out on a daily basis, you will discover that they learn naturally everyday, through life experiences.
Our focus is on creating an environment that is emotionally nurturing. A place where your child feels safe, and is surrounded by familiar caring educators that support them to be and become their authentic self. There are many child care options for infants that offer a range of benefits. However, the best child care services respect each child's individuality, talk to children in a positive way and make all children feel appreciated and valued. If this is the care you are looking for, look no further than our child care service, Educoe.
How does Educoe promote learning through play for infants?
The way children learn is very clear – that is, naturally. Infants, or any child for that matter, do not need direct teaching or help to achieve natural stages of gross motor and sensory motor development (Pikler, 1971). At our child care service for infants, we like to achieve a balance between adult stimulation and independent exploration. During caregiving moments such as meal times and nappy changes, our committed educators ensure they are wholeheartedly present and attuned to your child's needs. During these unhurried, pleasurable times that both your infant and the educator share, your child will gain the emotional reassurance they need to engage in independent exploration. During independent exploration your infant will learn through play and have access to a variety of open ended materials to explore at their pleasure.
How does Educoe approach infant child care differently?
Other child care services may emphasise cognitive development and often are steered to achievement. At Educoe, we follow the child's lead, and recognise and honour the here and now in children's lives. At our childcare support your infant to know themselves in the present, to build and maintain relationships with others as they grow, and engage with life's joys and complexities, meeting their every challenges in life with confidence. The early childhood years are not solely preparation for the future, but also about the present.
What should I expect as a parent for my child, day by day?
Children rely greatly on predictability and need a healthy consistent daily rhythm. Right from the beginning we will work with you to better understand your infants needs, to ensure we make the changes necessary to meet them. We will also support you on your parenting journey as you navigate through. "You lead and I will follow."