I know your needs are more important than my wants. I will respect and trust your choices, because they are enough. You are a decision maker.
— Educoe Philosophy
In toddlerhood, a child's most important task is to become autonomous – to learn that they have control over themselves and the choices that they make.
Toddlerhood is the time when a child becomes an individual.
During this time, your child is now becoming more aware of their wider world, and that can be scary. They are trying to find out who they are and how much power they hold.
Self-discovery takes a long time and, during this time, your child will explore who they are by testing boundaries. This is what the journey to independence looks like, and it is very appropriate to your child's stage in development. We will embark on this journey of exploration alongside your child, and support them as they navigate their place in the world.
Your child: A partner in decision-making
In the Toddler room, your child will explore decision-making and choice. Offering choice gives children a sense of control in a world where they sometimes feel powerless. We will empower your children by, not only hearing their voices, but by respecting them too.
Choices offer a child a sense of freedom and control over their life
— Magda Gerber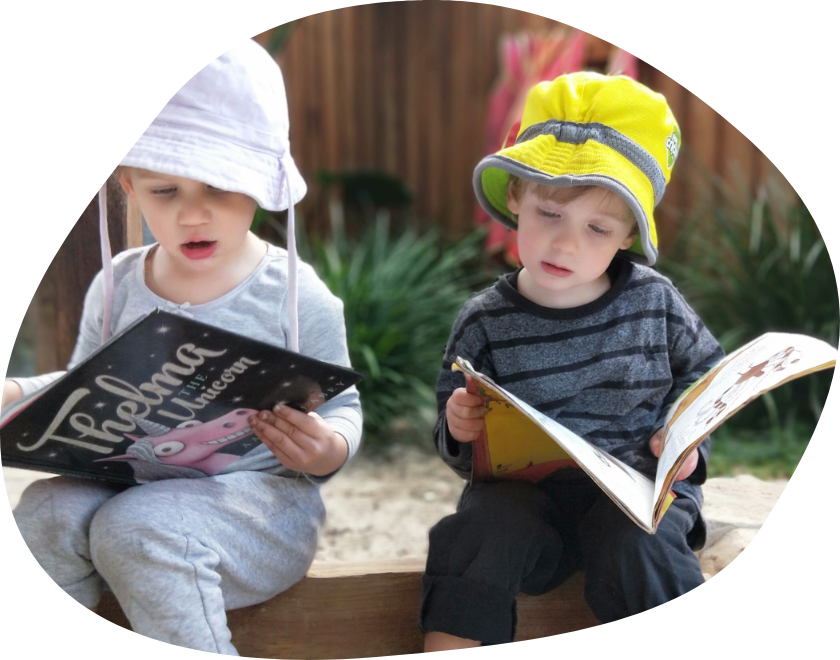 What does language development in the Toddler room look like?
Modelling language use
Questioning
Two way conversation
Talking about real, meaningful things
Nursery rhymes, songs and stories
Connecting their thoughts and actions to their words
I promise to give you guidance, predictability and no shame or judgement.
The most important early learning happens through day-to-day life experience and, at our early learning and child care service Educoe, we make the most of these experiences.
One way we do this is by supporting your toddler as they embark on the road of independence. Our experienced early childhood professionals work alongside you every step of the way – together we can guide and nurture your toddler as they discover who they are and the world they live in, through play.
As parents, you may surprisingly discover that, when your toddler is at play and involved in situations that interest them, they have remarkable concentration and follow through. At our child care service, we allow and encourage your toddler to be a competent explorer, and create meaningful experiences that capture their interest so they can grow to be confident and involved learners.
Nurturing minds at a young age
At the toddler stage, you may find your child begins to pretend. Your toddler might pretend to drink from a container or feed their doll. Pretend play springs from creativity and, at our child care service, we welcome and encourage this by providing a nurturing environment that fosters free exploration.
'Imagination is more important than knowledge' – Albert Einstein.
Learning through play is the way young children learn. As your child grows into toddlerhood, they will interact more with others. Toddlers participate and connect with other toddlers through such gestures as offering their teddy to a distressed child, or welcoming a new child enthusiastically.
At our child care centre, our trained educators will create welcoming environments that support your toddler to experience and develop mutually enjoyable, caring and respectful relationships, with others and with their environment. They will take a collaborative approach to everyday routines, events and experiences, to ensure your child has ample opportunity to contribute to decisions.
Reaching their potential
Choice gives a child a sense of control, and supports them to develop their confidence to be involved and make decisions. Children who are are confident, and have courage and enthusiasm to try new things, take control of their own learning journey. They persist when challenged and discover their inner drive to learn. Child driven choices and decision-making is something that we plan for at Educoe.  We listen to your child as they explore their toddlerhood, value their opinion, respond to their needs and support them when they need it, developing their confidence at our child care service every step of the way. We'll work through decision making with your toddler, not deciding for them, rather providing a framework and safe boundaries for them to test and try to discover what decision making and choice feels like. Toddlers learn how to cooperate with others, grow relationships and be a part of a larger group, and continue their journey towards preschool.
If you're looking for an early learning and childcare service for your toddler, then look no further than our high quality education and care service located in Revesby.